A widget ready wordpress plugin for displaying Groupon deals
Install
Copy the entire directory to your wp-content/plugins directory, then activate the plugin via the admin panel.
Admin Options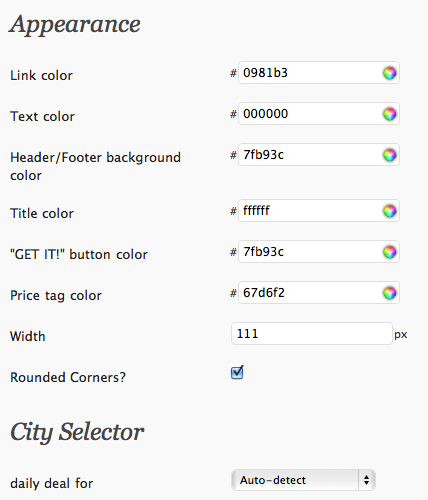 Features
Easy to install, drag and drop widget
Put in your referral code to get 10 Groupon bucks for each referral
Auto-locate and render the closest deal to the user using the auto-detect option under city select
Fully customize the colors to fit with your site
Authors
Also big thanks to Matt Loseke for the HTML/CSS implementation on the javascript version
Questions/Feedback?
Send me an email at keithnorm@gmail.com
Download
You can download this project in either zip or tar formats.
You can also clone the project with Git by running:
$ git clone git://github.com/keithnorm/groupon-wordpress-widget